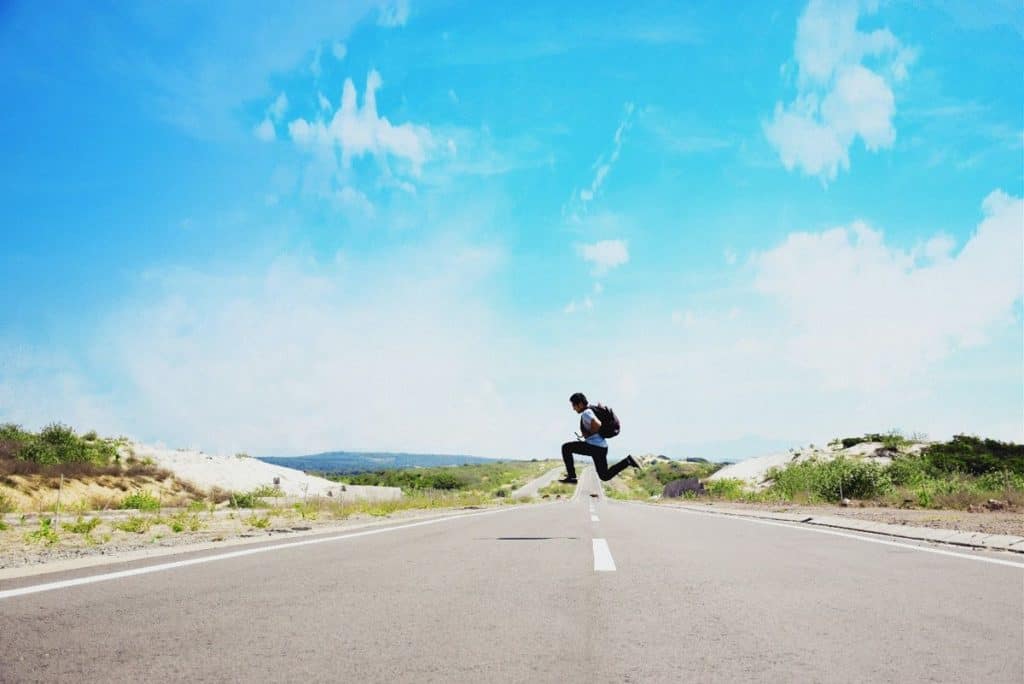 I was running.
'A quarter round done… When I reach that lamp post it will be half a round done. Two and a half more to go.'
The mind was constantly calculating what remained and what had been done. The eyes fixated on the next signpost that would signal to the brain to recalculate again, and again, and again.
Out of the corner of my eye, a pretty blue butterfly drew my attention.
'Nope. Can't stop.'
'Hang on.. why?'
My mind got interrupted with some inner banter, until I pulled the attention back to calculating how far I had ran, again. It was in this moment I noticed how tensed and tired the mind was, obsessively made to do these calculations repeatedly.
'It's 3 rounds, not 3,000 rounds, dummy. What the hell is wrong with you?'

I laughed.. within.
It would have taken too much breath to actually laugh while running.
In this small window of openness, a saintly question dropped in.
'What if the run is already done?'
I could do 5 rounds if I want to, there is absolutely no reason that I cannot finish 3 rounds, barring the unlikely event of acts of nature or unexpected accidents. Touch wood. If I want to run 3 rounds, considered it done, there was no way I was going die of exhaustion at one and a quarter round and stop.

So why am I incessantly counting and looking for the next signpost?
'If the run is already done. And all you are doing is experiencing the run, how will that change the run?'
Although I didn't slow down my pace, everything around me felt like it was slowing down. It felt like my vision was clearing up, compared to everything feeling like a blur when my focus was on the next signpost. I enjoyed watching the greens. The gentle pressure on my feet as I ran felt like a massage. I smelled the air and the grass. I made eye contact with someone who went past me. Eventually I ran flaying my arms around playfully, because… why not? My run is coming alive because my run is already done.
'What if that is the truth for everything?'
It's already all done.

When you wake up in the morning, it's inevitable the day that begins will end.
The sun rises and set. All you are doing is experiencing the day, that is all.
What would you open to in this moment?
The book that I want to write is already done.
The program I am planning to teach is already done.
The life that I want to have is already done.
All that is needed is to savour the moments with all its ups and downs.

Maybe there is endless potential awaiting.
When we embraced that all is already done.
Such ease and relief.
Such joy.
Such aliveness.